We've just shipped Release 2.0 of FieldCam, our retro iPad camera app, and it's a major upgrade. In fact, all that remains from the original is the name and the design of one button. Otherwise, it's been completely re-written to give you a huge amount of power and plenty of choices for your creativity.
We originally launched FieldCam for iPad back in May 2011. It was our instinctive response to the massive size of iPad 2's camera viewfinder (and an attempt to cover up, at least to some extent, iPad 2's pretty dismal image quality). The past eighteen months have seen a couple of minor updates to the app, but it remained something of a one-trick pony—with a trick that probably seemed less relevant as new iPads with far more capable cameras appeared.
When we decided a few months ago that something ought to be done about FieldCam, we decided to start from scratch. We asked ourselves—and our ever-helpful team of beta testers—what we really wanted from a steampunk iPad camera app.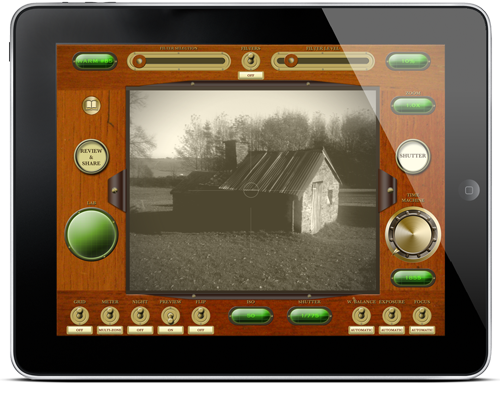 The answer, after a lot of development and testing, is now available.
It uses the same core technology as Jag.gr's groundbreaking iPhone app 645 PRO. Like 645 PRO is gives you a lot of manual control over camera features such as exposure metering and setting the focus point. It also lets you travel through time and take photos imbued with the spirit of eight different epochs, from 1855 onwards (including the near future, if you want the crispest digital image your iPad can deliver). It lets you share your images on the leading social networks.
Above all, it's about having great fun while taking great pictures.