Today, we're releasing PureShot 2.0. This is a major upgrade, so we wanted to let you know about what's new. It's all good!
(Please note: there is an issue with this release and some iOS 5.x devices. We have rushed a fix to the App Store and are requesting an expedited review. Please wait for the update if your device is still running iOS 5.x.)
First, we've completely re-written the way that images are saved. This may not sound like such a big deal, but it is. Here's why:

Until now, PureShot—like most apps—just chucked its images at the Camera Roll and let Apple's built-in processes sort out how they'd be saved. And that works just fine as along as you're saving small images and doing so infrequently. However, the standard approach doesn't cope too well with trying to save several images at once—which is what happens if you shoot quickly and especially if you shoot full-resolution images in a higher quality than standard, such as with PureShot's MAX-Quality JPEGs or dRAW TIFFs. If the number of images being saved exceeds the maximum that the built-in buffer can handle, then everything goes awry.
So we've built, in essence, a system for pipelining the images. We don't ask the standard "save-to-Camera-Roll" process to deal with any more than one shot at a time, with our internal system only feeding that process a new image when it's ready for it.
The end result of this is that you can shoot lots and lots of full-resolution, high-quality images in sequence, and they'll all get saved in due course.
It also provides a level of security. Should something cause a problem with your iPhone or iPad while PureShot is busy saving, you can re-start the app, and it will carry on saving files where it left off.
Burst and Bracket
We've also added two new alternatives for what happens when you trigger the shutter release. By default, you shoot a single photograph (as you'd expect!). However, go to the Shutter settings menu and you can also opt for a three-shot burst or a three-shot bracket:
If you select the three-shot burst, each time you release the shutter you iPhone or iPad will take three photographs, one after the other, as fast as it can (which is really pretty fast on iPhone 5, if a bit less quick on older hardware).
The three-shot bracket is a little different: it's lets you take three closely-grouped shots with different exposures. You may want to do this to provide "cover" in situations where exposure is tricky to assess, or to combine later into a single High Dynamic Range (HDR) photograph.
With the three-shot bracket you get two (numbered) circles that let you select a spot-metered exposure point-of-inerest for the second and third shots of the sequence—here shown with the standard spot-metering point-of-interest indicator, although you can also take the "standard" shot with matrix metering. When you move these around the viewfinder you can seen the effect that their location will have as they temporarily "take over" the metering while you're dragging them.
Once they're where you want—and, if you choose to display the exposure information, you can be very precise and set them, say, 1 Ev apart—you release the shutter and three differently exposed shots are taken. Please be aware that there is a gap of just over a second between each shot because iPhones and iPads take time to adjust their exposure!
Going large
There's also a new button to trigger the new Full Screen option for iPhone and iPod touch devices with 3.5-inch displays *:

Press this button, and you get the biggest possible 4:3 viewfinder on your device, together with the bare minimum of controls needed for capturing your shot—the shutter release button and the AE-L, AF-L and WB-L buttons. If you need access to anything else, just tap the Full Screen button again and you're back with the standard viewfinder: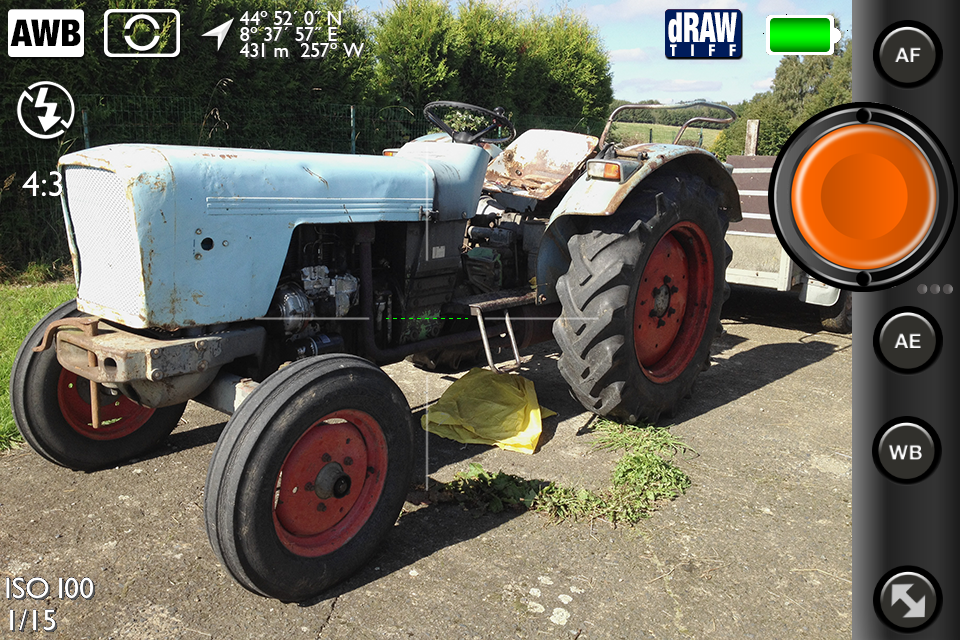 This is a great addition for those who want to concentrate on the shot with as much visual information as possible.
On the menu, tonight
Going back to the first screenshot, you may also have noticed that the menu system has changed. The menu used to pop up over the entire display (a standard iOS "modal" view). However, that meant you had to navigate your way out of it once you'd changed a settings—two or three taps that weren't really necessary. So we've put it inside the viewfinder (just as you'd find with a normal digital camera). Once you've made your change, just tap on the MENU button again (or, indeed, any other button) and it will be gone!
There's lots more new in PureShot 2.0, but most of it is very much "under the covers", designed to make the experience of taking pictures as pleasant—and effective—as possible.
PureShot 2.0 is exclusively available fro the iTunes App Store, where it costs $1.99 (or the local equivalent). It is a free upgrade for existing PureShot customers. Click here to download it now!

* If you're using iPhone or iPod touch with a 4-inch display, such as iPhone 5, you don't need this feature because your 4:3 viewfinder is already as big as it can get…