We've added snappgrip support to the latest updates of our flagship camera apps 645 PRO MK II and PureShot, available now on the iTunes App Store.
The snappgrip accessory is a seriously cool way to add real camera controls to your iPhone, with a two-stage shutter button, zoom buttons and a selection wheel. And it just snaps out of its dedicated case for easy carrying.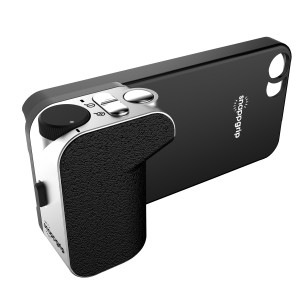 With 645 PRO Mk II and PureShot you can now make a half-press of the shutter release to set and lock focus and exposure, before taking your photograph by completing the press. You can zoom in and out using the dedicated rocker. And you can select from the various image formats or "backs" available in the apps by rotating the wheel.
With snappgrip, your 645 PRO Mk II and PureShot photography benefits from extra stability—and it's great for one-handed operation.
And things just get better—for an initial period, if you buy snappgrip via the dedicated links inside the apps you'll get an amazing 20% discount! (The discount will be automatically applied when you check out.)
Lee Harris, the developer of snappgrip says "We are delighted to welcome Jag.gr as the first developer to utilise our hardware integration API. 645 PRO Mk II and PureShot bring powerful 'big camera' features to iPhone photographers and users of these apps can now further experience 'big camera' handling with snappgrip's hardware controls for zoom, focus, shooting mode and shutter combined with our optional add-on lens range."
Jag.gr's Mike Hardaker says "I believe that combining snappgrip with 645 PRO Mk II and PureShot delivers iPhone photography enthusiasts an incredibly powerful and creative tool set. We've always been committed to providing the handling and the high-quality output that photographers demand and by supporting snappgrip, we take that commitment to an even higher level."
PureShot is exclusively available from Apple's iTunes App Store. Click here to buy it now!
645 PRO Mk II is exclusively available from Apple's iTunes App Store. Click here to buy it now!
If you by snappgrip from within the apps you will receive a 20% discount from the purchase price of snappgrip!
Just download, enable snapgripp support (MENU->External Hardware) and start shooting!