We've added iblazr support to the latest updates of our flagship camera apps 645 PRO MK II and PureShot, available now on the iTunes App Store.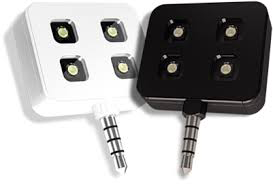 The "mighty LED flash", iblazr allows you to cast more light on your images, and can now be natively controlled by either 645 PRO Mk II or PureShot.
The apps offer two forms of support for iblazr.
The first is Fill flash. When this is selected, the flash will fire and provide additional light to the "correct" exposure for the scene you are photographing. This is ideal for capturing objects that are back-lit—instead of capturing a silhouette in front of a perfectly-exposed background, you can have both foreground and background correctly illuminated.
The second is Auto-expose. This operates much like the built-in iPhone flash—iblazr lights  up a period of pre-flash in order for the auto-expose mechanism to correct for the additional light. Then the image is captured with even lighting.
Both methods can be used to enhance your creative options as an iPhoneographer (or "iPadographer"—iblazr works on iPad, too!).
Other new features include:
Support for the front camera (where available). That's right, you can now switch between both of your iOS device's camera.
Option to view/share the entire Camera roll or only the app's images. If you'd rather PureShot or 645 PRO Mk II just gave you access to the images specifically created by them, you now have that choice.
Option to optimize autofocus for near or far images. By default, your iOS device's auto-focus tries equally hard to find images that are close to it or far away from it. However, a degree of bias can now be added. If you prefer, the camera can now "target" objects that are either close or distant—the full range of focus is still available, but performance for a particular band will be enhanced.
Even more—check out What's New at the iTunes App Store!
So just download the updated apps, enable iblazr support (MENU->External hardware) and flash away—or make the most of the other new features!
Please note that iblazr will enter its "sleep mode" after one minute of inactivity. As is the case with iblazr's own app, there is no way to check programmatically this from 645 PRO Mk II or PureShot—you need to check manually that iblazr is awake before you capture your image.