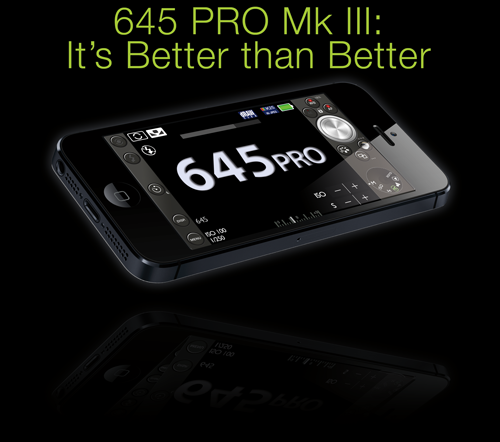 It's just 12 days since we launched 645 PRO Mk III, our flagship iPhoneography app, adding manual focus (with focus peaking!), manual and semi-automatic exposure modes, exposure compensation and full white balance control. The reception has been amazing, and a huge number of existing 645 PRO photographers have upgraded.
So how come we've shipped no fewer than six set-updates in that short period?
Three reasons. First, thanks to all those photographers updating to the new app, we've got a lot of great feedback. And some of that has included suggestions on how to improve the app, or mentions of minor bugs, or aspects that people find trickier than necessary to use. So we've responded.
Normally, we'd save all these up and put them together in an update after a couple of weeks or so, then waiting a week to ten days for it to pass through the review process at the iTunes App Store. However (and this is Reason Two), recently the review team at the App Store has been amazing, getting our updates out to you within 24 hours of us uploading them for review. That means we get near-instant feedback, to which we can respond nearly instantly, and so it goes on. So we've spent this time listening to you and using what we hear to make the app even better!
And the third reason? Well, we've also managed to add in a few new treats that just weren't quite ready when 645 PRO Mk III shipped. Key among these is an array of four fabulous new Film Modes. There are two color modes and two B&W, just waiting for you to use them to fuel your creativity.
So, what's next? Well, we're just finalising a massive update to our filter-free #nofilter app, PureShot, and then we'll just have to see!