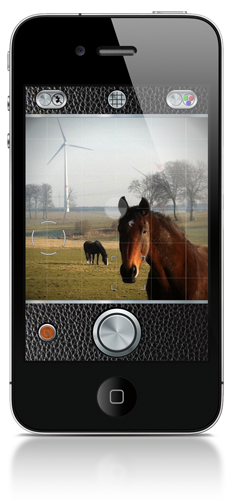 Take high-quality, square photographs with 6×6. It's a reminder of the old 6cm (or 2¼-inch)-square medium format that was so popular with both amateurs and professionals using 120, 220 and 620 roll film. Because it just looks so good.
Features
1:1 image ratio (yes, square)
Blistering performance
Optional Real-time Preview
Full EXIF support—including location-tagging
Manual focus and exposure control
What you see is what you capture
Framing grids help keep your verticals and horizontals where they should be
"Split-image" shows where the middle of your composition is, and even whether it's level
Fixed focal length lens (no digital "zoom" making your photographs fuzzier)
Saves straight to the Camera Roll
Manual flash control—it's either on or off
Color or B&W
Elegant user interface
No "retro" image-processing—old 6×6 cameras could take great pictures; if you want to mess them up afterwards (what exposure to the elements has done to some old prints), it's up to you
Advanced settings
Opt-in to Real-time Preview—see exactly (from any of eight Color or B&W Modes) what you will take, in the viewfinder!
Picture Review lets you see your photographs on screen straight after you've taken them (tap to clear)
Select B&W Mode from Standard, Dynamic, Fine or Antique
Select Color Mode from Standard, Dynamic, Vibrant or Vintage
Print Border adds a crisp white or black border to your photographs
Control sounds: audio feedback when you click a switch or press a button
A retro flashgun sound, for some serious nostalgia
For the true obsessive, 6×6-Flex (TLR) Mode replicates the effect of the standard waist-level viewfinder on a twin-lens reflex camera, with a mirrored preview!
Settings button is a "film counter" that shows you, through a red jewel, when (and how many) images are background saving
Manual focus/exposure control
Tap to set the focus/exposure point-of-interest
Tap-hold to set an independent exposure point-of-interest (a single tap now manages focus alone)
Swipe the display to lock the focus and exposure
Double-tap to return to Autofocus/Autoexposure
If you find other camera apps over-fussy (and their photographs annoyingly oblong) then 6×6 is the app for you. It stays out of your way as you focus on the most important aspect of photography: getting the right composition in the frame.
6×6 for iPhone is exclusively available on the iTunes App Store.